Last time, we looked at repricing our Managed Services contracts. This time, we'd like to focus on:
Do my engineers have CLEAR goals
that they are trying to achieve?
Am I CONSISTENTLY reinforcing those goals on a regular basis?
Usually at the beginning of a new year, we step back, look at the business, and then set goals of how we are going to operate differently THIS year to better achieve our desired objectives. But soon, the busy-ness of the business gets in the way, and we are off fighting the firefight of the day rather than encouraging the "new direction".
So today's discussion is all about improving the odds that you WILL execute on the "new direction". Some things to keep in mind on this issue include:
CLARITY: Have you CLEARLY articulated the goals that you have in mind?  Do they understand what you are asking them to do?
COMMUNICATE:  Have you communicated your expectations to the team in a way that helps them embrace your vision for the future?
CONSISTENCY:  Potentially the hardest issue of all:  Have you consistently followed up on the progress towards the goal?  And not just when you "roll them out", but also on a weekly or monthly basis?
NET RESULT: The bottom line is that if you have clear goals that your team understands and they know that they will be held accountable against the goals, you have greatly improved the odds that the new direction that you have envisioned will become a reality.
Obviously what you need to measure will vary widely based on what your vision is for the future. Common metrics for improvements in your engineering area might include:
Responsiveness  How quickly do we take care of customer issues that arise?  Do we resolve those issues on "the first call", or does the process get strung out into multiple calls?  When we resolve an issue, do we REALLY resolve it, or do we later re-open that ticket?
Productivity/Capacity: Is Engineering able to "keep up" with the ongoing ticket load?  Are the number of tickets that are "open" INCREASING in number, or decreasing?  Do we have tickets that have been open much longer than they should be?  (perhaps 15 or 30 days).
Teamwork and Accountability: Do your engineers participate in weekly staff meetings?  Do they record their time to at least the minimum requirements?  Do they submit their timesheets "on time"?
Gathering this information from ConnectWise involves an ongoing process, and will involve tracking tickets, time entries, timesheets and other metrics on an ongoing basis. Once you've gathered the metrics, you then clearly communicate them to your team via e-mail, staff meetings and one-on-one conversations.
THE NEW HAVEN APPROACH
At New Haven, we provide several reports that gather and communicate KPI metrics, and we also work with our clients to provide custom KPI reports to exactly meet their needs. Here's a high-level report showing the results on a weekly basis for the entire team: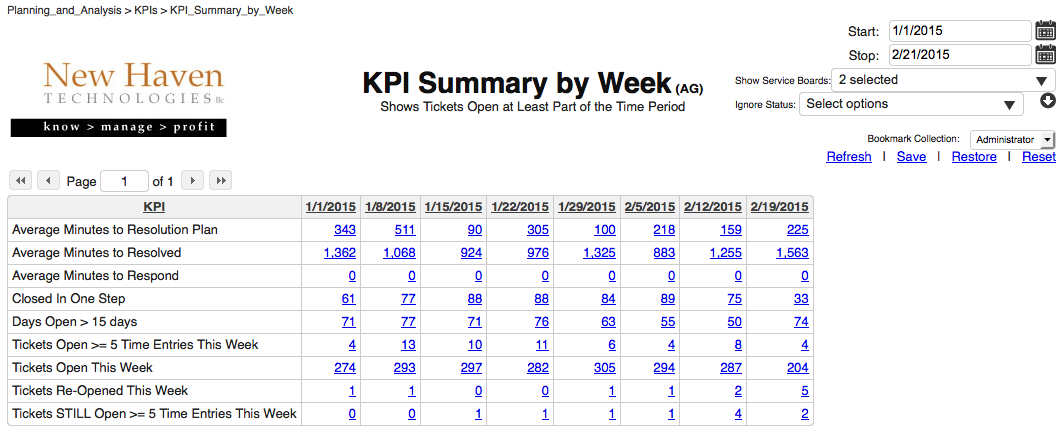 Here's a realtime dashboard broken down by engineer which can be displayed on a large screen in your engineering area. This dashboard updates automatically throughout the day to encourage positive behavior: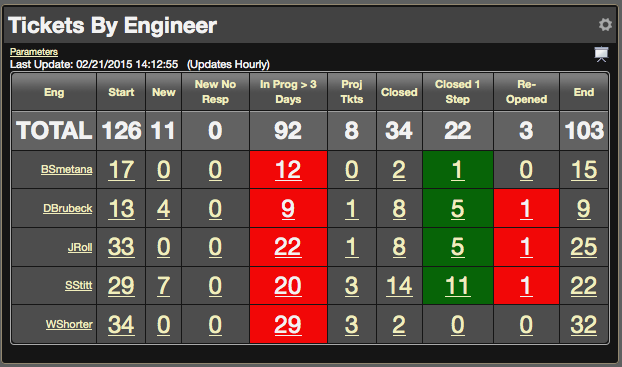 Our final example breaks the performance for each engineer down in to weekly buckets, and includes items like attending staff meetings, submitting timesheets on time, etc.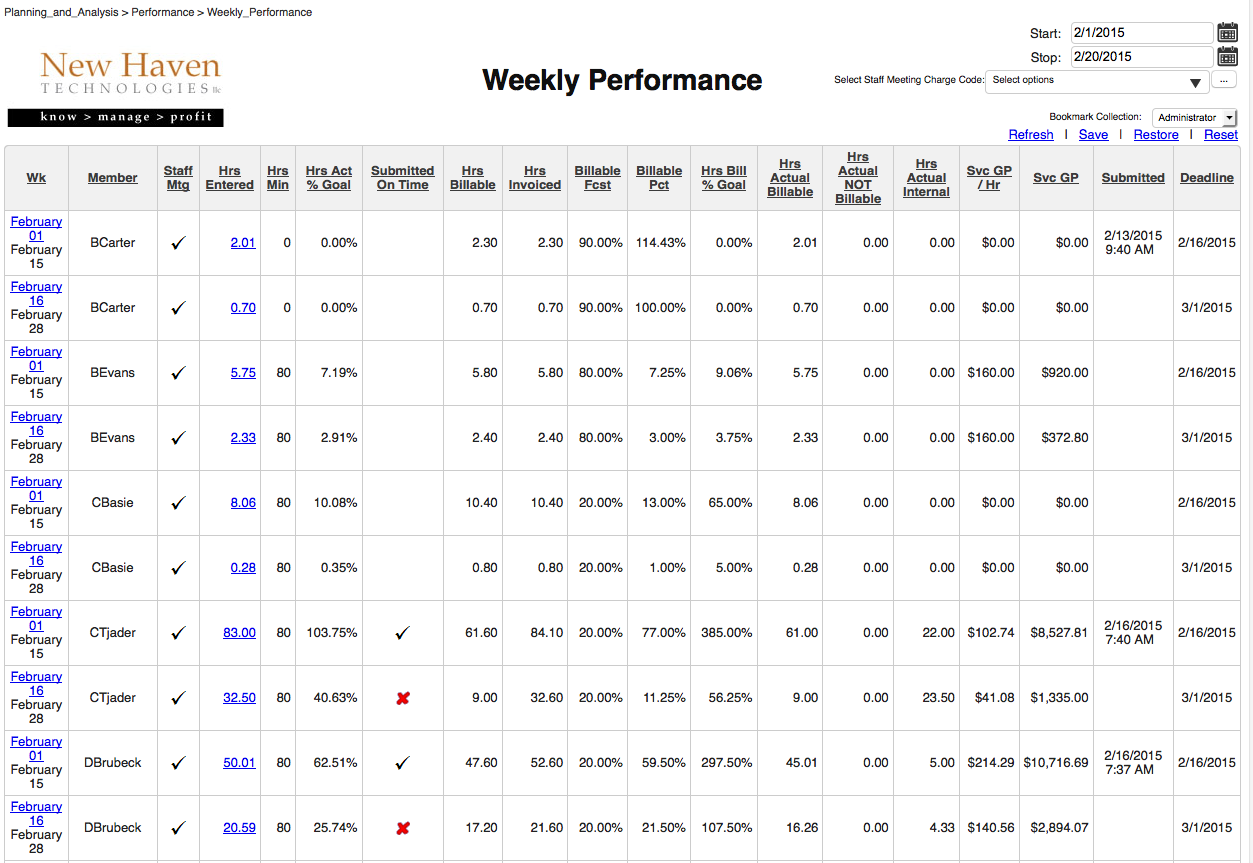 Hopefully this discussion will encourage you to spend some time thinking about the direction that you want to take your business, the key measurements to help achieve that direction, and the process to help make that vision a reality.
At New Haven Technologies, we provide access to information so that you can make data-driven, informed decisions about your MSP business.  Our service is provided on a month-to-month basis, and starts with a free two-week trial on your network with your data.  We also include customized reporting at no additional cost as part of the service.  If you are interested in learning more, just "reply" to this e-mail, or you can sign up for your free two-week trial at https://www.newhaventech.com/Trial
Best Wishes for continued success in building your MSP practice!
Dave Keller
Founder and Chief Consulting Officer
New Haven Technologies, LLC
Keller.D@NewHavenTech.com
(765) 335-KNOW
Stop Guessing. Start Knowing.
www.NewHavenTech.com