Last time, we looked at managing your MSP practice via Key Performance Indicators (KPIs). This time, we'd like to focus on:
 Am I "at risk" of losing an MSP client due to "lack of attention"?
Am I "at risk" of LOSING MONEY on an
MSP client due to TOO MUCH attention?
Managed Service clients pay you a flat fee at the beginning of each month and expect you to "make their technology work" throughout the month to help support their business. When done correctly, you and your team are often "invisible" to the client, taking care of problems BEFORE they occur and PREVENTING "fires" before they become visible to the client. In return for the monthly fee, you are the unsung heroes that keep their infrastructure safe, solid, and running like a well-oiled machine.
Due to the fact that what we do for the client is often "invisible", most MSPs have periodic "business review" meetings with their clients. This is a time when you can sit down with the client, give them an idea of all the great things that you have done for them "behind the scenes", and talk to them about their future directions.
The danger in the MSP model is that your engineers may focus on responding to requests from clients that ARE having problems, rather than being disciplined in executing preventative maintenance procedures that PREVENT problems for your MSP clients.  This puts you in the unenviable position of walking in to a business review meeting with an MSP client, looking at what your engineer team has "done for them lately", and discovering that the attention that this good account has received has been sorely lacking.  This makes your response to the clients question "What am I paying you for again?" a much more challenging question than it should be.
There's only one answer to this problem, and that is to be vigilant in making sure that engineering is providing the appropriate amount of attention to your MSP clients. So what should you look at in this process?
MSP Revenue and Profit  Who are your largest MSP clients?  Look at this both from a revenue and profitability standpoint.  You can find this in ConnectWise by looking at the monthly invoice line items.  Keep in mind that bundling lots of 3rd party products like antivirus, anti-SPAM and remote backup services will reduce profitability and need to be factored in to your calculations.
Engineering Hours for this Client How many hours has your engineering team spent focused on this client this month?  You can find this in ConnectWise by looking at the tickets associated with this client and their time entries for this month.
Goals for your MSP Practice What is your "effective hourly rate" goal (i.e. how much you want to earn for each hour worked) for your MSP practice?  This should be the yardstick by which you measure your success in improving the productivity of your MSP Practice.
Finding "Goldilocks" So you need to spend ENOUGH time with each MSP client so that they see the value in your services, but not TOO MUCH time such that your effective hourly rate (EHR) is below your EHR goal.  You want to be somewhere in the middle of those two.  Or as Goldilocks said in the old fairy tale, "just right".
Gathering this information from ConnectWise involves an ongoing process, and will involve tracking invoices, tickets, and time entries on an ongoing basis. Not the most exciting activity, but much better than having to walk into an MSP business review with a client without an effective way to demonstrate the value that they are receiving from the relationship.
THE NEW HAVEN APPROACH
At New Haven, we provide this information in a SmartPhone report called "Fully Managed EHR".  Here's a screenshot: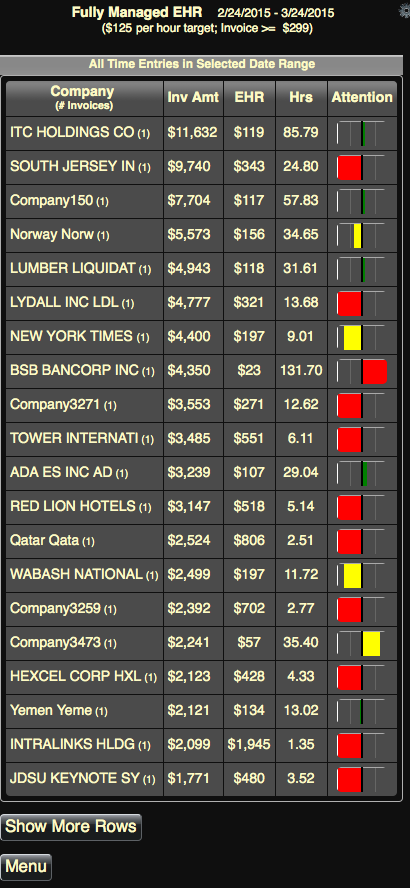 Pay special attention to the column on the far-right labeled "Attention". This graphically depicts if the amount of time you have spent is "just right", compared to your MSP EHR goal. Examples:
ITC Holdings "Attention" is green, so we've spent just the right amount of time.
South Jersey "Attention" is red to the left, so we have spent TOO LITTLE time.
BSB Bancorp "Attention" is red to the right, so we have spent TOO MUCH time.
A few items of note on this report:
MSP Clients are listed in descending order of total invoice amount (order can be changed by clicking the column headers)
Effective Hourly Rate (EHR) is calculated on the revenue remaining AFTER you have paid your 3rd parties for services bundled with the invoice.  So EHR is calculated on "Contribution Margin" of the invoice, NOT on total revenue of the invoice.
Your "EHR Goal" can be seen in the title of the report, and can be adjusted by clicking the "gear" icon in the upper-right.
You can limit the companies that you want to see on the report based on the amount of the invoice.  This limit is shown in the report title, and can be customized via the "gear" icon.
Time frame for the report defaults to the last 30 days, but can be customized via the "gear" icon and is shown in the report title.
At New Haven Technologies, we provide access to information so that you can make data-driven, informed decisions about your MSP business.  Our service is provided on a month-to-month basis, and starts with a free two-week trial on your network with your data.  We also include customized reporting, dashboards and SmartPhone reports, all at no additional cost as part of the service.  If you are interested in learning more, just "reply" to this e-mail, or you can sign up for your free two-week trial at https://www.newhaventech.com/Trial
Best Wishes for continued success in building your MSP practice!
Dave Keller
Founder and Chief Consulting Officer
New Haven Technologies, LLC
Keller.D@NewHavenTech.com
(765) 335-KNOW
Stop Guessing. Start Knowing.
www.NewHavenTech.com