Our focus in this discussion is:
 How can I motivate my MSP engineering team?
What are some of the KPIs (key performance indicators)
that I might want to consider including in that process?
Keeping your MSP (managed services) engineering team focused on doing the 'right' thing is important, but also can be quite a challenge. What is 'the right thing'? You can help guide your team's direction by giving them some goals to keep in mind as they execute their daily service activities.
Here's a few ideas on KPIs for your MSP engineering team:
Managing your Time and Tickets Effectively Are you managing your time and tickets assigned to you effectively?  Do you have a backlog of tickets that have piled up?  Are you working with Dispatch to schedule your time for most effective use of that time?  Do you record your time on a daily basis and submit your timesheets "on time"?
Customer Care How well do you interact with our clients?  Are they 'feeling good' about the service you provide?  Or do they dread when they have to interact with you via phone, e-mail or in-person?
Efficient Use of Time How efficiently are you using your time to benefit our clients?  Do you waste a lot of time around the office?  Are you achieving your goal for "billable percentage"?
Effective Record-Keeping Are you recording details of work you have completed in the tickets you are assigned?  Do you update client documentation "as appropriate" on a timely basis?
There are many other ideas about KPIs and incentives for your engineering team, but if you don't have an active KPI incentive program in place, hopefully you'll find these valuable to help you get started.
THE NEW HAVEN APPROACH
At New Haven, we provide several reports that assist in providing feedback for you engineers on their KPI goals.  One of our most recent favorites is called "Operations KPIs by Engineer".  Here's a screenshot: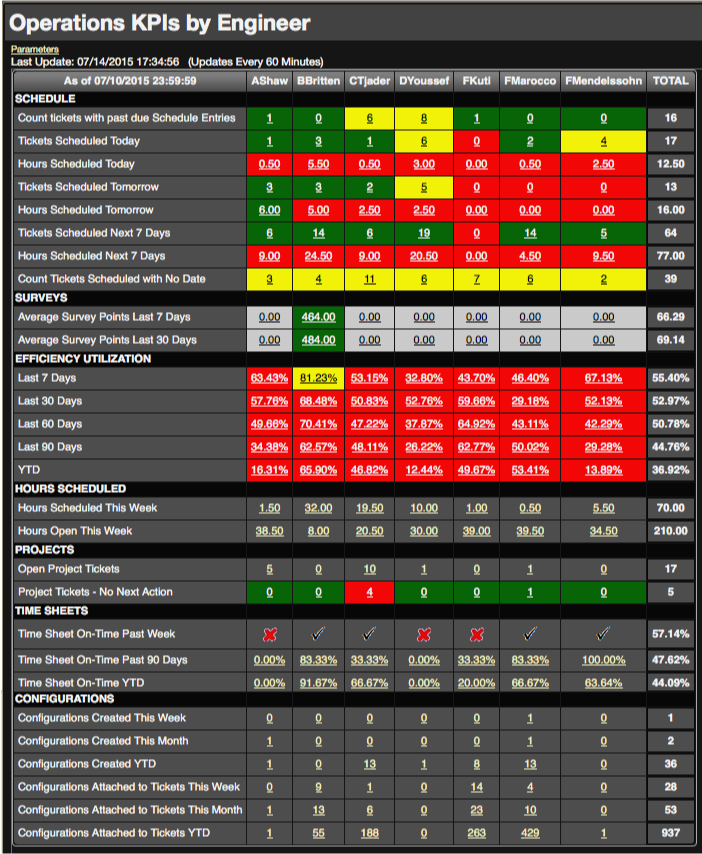 This report shows your engineers "side-by-side" across a variety of measures:
SCHEDULE  How are you doing at managing your schedule, tickets and time today and for the next 7 days?  Do you have tickets assigned to you that have NO time scheduled yet?
SURVEYS  For tickets that you have been assigned, what has been the feedback from client surveys on the satisfaction with those tickets?
UTILIZATION Are you achieving your "billable %" goals?
PROJECT MANAGEMENT Do you have project tickets assigned to you that do NOT have a "next action" scheduled?
TIMESHEETS Did you get your timesheet submitted on-time this week?  How have you done getting your timesheets in on time in the last 90 days?  YTD?
CONFIGURATION RECORD-KEEPING  ConnectWise allows you to "attach" a configuration for a device to a ticket.  This allows you to then go back and see how much time has been spent trying to fix issues with this particular device (and may give you ammunition to encourage a client to replace this device, saving you time and money).  How effective have you been in "attaching" device configurations to your tickets?
We provide this information is three different formats:
REPORT As a standard report, this information can be viewed interactively on-screen, or can be "scheduled" for automatic e-mail delivery on a schedule of your choosing.  (The report can be downloaded or e-mailed in HTML, Excel or PDF format).
DASHBOARD We provide this data as a "dashboard" which can be displayed on a large screen in your engineering area so that each engineer knows exactly where they stand at that point in time.  The dashboard automatically updates itself throughout the day.
SMARTPHONE We also provide this report as a "SmartPhone" report, so you can easily view the latest data from your iPhone or Android device.  Managers can view any/all engineers of their choosing, while engineers are allowed to view only THEIR information.
At New Haven Technologies, we provide access to information so that you can make data-driven, informed decisions about your MSP business.  Our service is provided on a month-to-month basis, and starts with a free two-week trial on your network with your data.  We also include customized reporting, dashboards and SmartPhone reports, all at no additional cost as part of the service.  If you are interested in learning more, just "reply" to this e-mail, or you can sign up for your free two-week trial at https://www.newhaventech.com/Trial
Best Wishes for continued success in building your MSP practice!
Dave Keller
Founder and Chief Consulting Officer
New Haven Technologies, LLC
Keller.D@NewHavenTech.com
(765) 335-KNOW
Stop Guessing. Start Knowing.
www.NewHavenTech.com